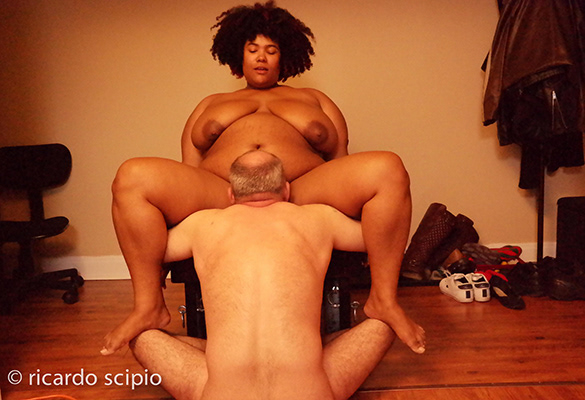 Sexual Photography and Body Positivity Come Together in Sex Goddess Project 
Critically acclaimed veteran photographer Ricardo Scipio is releasing his most provocative and controversial work yet - The Sex Goddess Project - a 259-page book featuring real women celebrating sex in an authentic and unapologetic way.
Scipio says: "If sexual images were food, people would be inundated with cheap junk food. I wanted to create a body of work that offers something more nutritious and satisfying for the health conscious, more discerning palette." 
In The Sex Goddess Project, Scipio presents the viewer with rich, unscripted images of empowered women in intimate acts of unbounded sex and sexuality with their chosen partners.
In this, his sixth book, Scipio's lens intimately and unobtrusively bares witness, and conjures a style that is both natural and unencumbered. His intention, to discredit prudish dogma and place sexual power firmly in the hands of the women he photographs, is an unequivocal rebuke of the porn industry.
Because of the explicit nature of the photography, the book is not available to the general public - just to Scipio's supporters and those who collect his work. However, in order to showcase the ethos of the project, he is planning an invitation-only online gallery screening for Canadians on May 20 and 21. Anyone can request an invitation here www.sexgoddessproject.com/contact
In a millennial image obsessed era, where intimacy has been traded for aloof, technological, anonymous romance, this photographic artist pushes a message of the joyfulness of sex, attempting to re-engage a notoriously disengaged audience that has been saturated with artificial and unrealistic imagery.
Ricardo Scipio, a Trinidadian raised in Toronto, began his love affair with cameras during a ten-year stint as a fashion photographer. Disenchanted by the industry's standard of 'beauty', which he considered hostile to women of colour and women with realistic-sized bodies, Scipio began telling his stories through film. He wrote and directed three independent feature films while developing a reputation for publishing photographic books of women of unconventional beauty - his 'Goddess Projects'. Committing to featuring women of colour and larger women won him critical acclaim and a deep-seeded purpose to push back long established boundaries.
The common thread running through the work is a tangible beauty of spirit. It is something Scipio intrinsically seems to capture with ethereal warmth. The seeds of The Sex Goddess book were already starting to germinate while he was shooting women nude for earlier Goddess Project books. On two occasions, his subjects - aged 70 and 53 - turned his sessions into self-pleasuring, and it made him want to embrace sex in his photography.
Scipio says: "The very state of being naked, for some women, is erotic and sensual but, prior to the Sex Goddess Project, I didn't understand that it was me who was repressing how the subject should portray her sexuality. I had intended to keep my work non-sexual and out of the realm of porn. To achieve my goal of being supportive of how my model wishes to show or assert herself intimately, I had to question my own boundaries and embrace sex in my photography. 
"Women have for too long, and in too many cultures, had their sexuality suppressed - only to be pseudo-released within the stiflingly unkind world of porn. I'm extremely humbled and proud to provide a vehicle for women to unapologetically express themselves with love and authenticity; something porn cannot offer. Sex is way too important to leave in the hands of pornographers"
What some of the participants said about the experience:
"It was certainly the most empowering, validating and sexiest experience of my life."
"The biggest thing I got out of the shoot was the confidence of knowing the inner work I have done has made me a woman who doesn't wait for what she desires but, instead, goes out seeking her experiences."
"It's not about the photographer, Ricardo Scipio, or my lover, or any other person on the planet. It's about my relationship with myself."
"When I make love to my man I feel the happiest, the most beautiful, the most powerful, the most vulnerable and the most divine. Why wouldn't I want the world to see that?"
"This was different. It wasn't an act or play for someone else's enjoyment. There were no expectations or castings of glamor. No illusions or exchanges. No one sacrificing something of them-self to meet the unspoken standard of the other."
"This was important. It was a chance to be an activist in the sensual world. To reclaim sex for the other bodies. The fatties, the people of colour. To call bullshit on the ones who say 'we' don't do this simply because they had never seen it done. This was healing. Because this room, this bed, this body had been violated and this intimate act of vulnerability was to be the unorthodox catalyst in the restoration of my carnal self."
Refusing to be idle when inspired, Scipio is now seeking Couples, Women and Trans Persons in Canada, or those who can travel to Canada, to photograph for a second Sex Goddess Project book. All shapes, sizes, colours and ages are welcome. The only stipulation is that applicants must be aged over 18. Interested candidates can email him directly at www.sexgoddessproject.com/contact
For Media Interviews, please contact:
www.sexgoddessproject.com